BROADLY-SPEAKING, THIS GUY'S GOOD
Thames Valley rider Ben Broad is fast making a name for himself  … for being fast.
The just-turned 15-year-old Yamaha ace from Ngatea was untouchable at the weekend, scoring a hat-trick of wins as he stepped up to dominate the 15-16 years' 125/250 class at the Valley Motocross Championships, an outstanding way for him to introduce himself to the older group of riders.
Otorohanga's Aaron King was runner-up to Broad each time on Saturday and so he was perhaps the rider with the best view of the class newcomer, albeit from behind his rear wheel.
Broad, who finished runner-up to Hamilton's Josiah Natzke in the 12-14 years' 125cc class at the New Zealand Junior Motocross Championships in Taranaki last April, has been going from strength to strength in recent months and now has plans to step up another rung and take on some of New Zealand's senior riders in the coming weeks.
Natzke moved up to the senior ranks at the weekend, which meant Broad didn't have to face him, but that's about to change when Broad also tackles the senior 125cc class at the New Zealand Motocross Grand Prix at Woodville in just over a week's time (on January 25-26) and in the four-round senior motocross nationals, set to kick off near Timaru next month.
"I've been working really hard on my fitness. That's all there is really between me and a rider like Josiah Natzke," said Broad.
"I'm good friends with Josiah and I've seen how hard he trains. I know what I have to do to beat him. I need to at least match his fitness.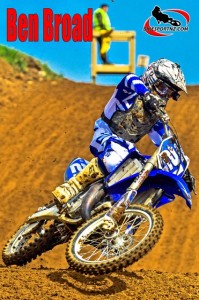 "The senior 125cc class is going to require even more strength and stamina from me. The senior nationals will be hard work.
"The senior races are longer and the competition's tougher. It's important to be going as fast at the end of the races as I am at the beginning. It's those final few laps that often cost positions.
"I'm realistic enough to know that I probably won't win races in the senior grade, not to start with anyway, and I'd be happy just to finish among the top 10 this year. Maybe next year I could expect to be pushing for wins."
It's a quirk of the race categories in New Zealand that riders of a certain age can "float" between the senior and junior ranks and Broad is at a stage in his racing career that he can make the most of this.
"I go back to junior racing for the junior nationals in the South Island in April. I really want to win my class there."
As with many young motocross riders, who admire what Kiwi internationals such as Ben Townley and Josh Coppins have achieved in Europe and the United States, this talented teenager has his heart set on making a professional career out of motocross, although Broad is also surprisingly mature about what his future may hold.
"I'm about to start my year 11 at Hauraki Plains College and I'll be focussing on my NCEA studies. Sure, I'd like to race in the US for a season, just to see how I'd go, to see where it takes me, but my schooling is very important too.
"I did really well at school last year and I want to keep that up."
Whether it is as a graphic designer, businessman or as a motocross champion, this is probably not the last we will hear of Ben Broad.
© Words and photos by Andy McGechan, www.BikesportNZ.com