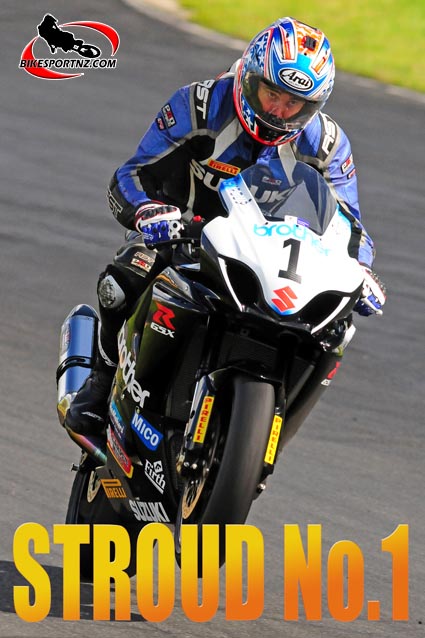 Waikato's Andrew Stroud has picked up where he left off a year ago.
Stroud romped to his fourth consecutive victory at the Suzuki Tri Series last season and he finds he is still on top of the glamour Formula One class after the opening round of this year's edition at Hampton Downs, near Huntly, on Saturday.
He qualified his Brother Suzuki GSX-R1000 fastest on a damp track, although, in reality, that meant little because the day's first race was under a clear, blue sky, with the tarmac rapidly heating up.
Stroud finished 2-1 in his two F1 class outings on Saturday, giving him a solid lead in the series with round two set for Manfeild, on the outskirts of Feilding this coming weekend (Dec 16) and the final round on the public streets of Wanganui on Boxing Day.
Stroud made a mess of the start in race one on Saturday and, although he made up a lot of lost ground, he eventually had to settle for second, beaten to the flag by Wellington's Sloan Frost (BMW), with Christchurch's Dennis Charlett (Suzuki) finishing behind him in third. Disaster struck for Frost in the next F1 race as he crashed out just three laps into the 12-lapper.
With rising star Frost taken away for medical analysis and unable to re-start, it allowed Stroud to lead a Suzuki 1-2-3-4-5 in the next F1 race. He was followed across the line by Charlett, Feilding's Craig Shirriffs, New Plymouth's Hayden Fitzgerald and Auckland's Ray Clee.
With his 2-1 results, nine-time former national superbike champion Stroud packed up and left Hampton Downs with a six-point series lead over 2012 national 600 supersport champion Charlett, now on a Suzuki GSX-R1000, with Shirriffs, Fitzgerald and Clee rounding out the top five.
"The lights came on for the start of race one and I misjudged them, actually starting too quickly. I thought it was all go but got it wrong. I was rolling the bike backwards to the line when the rest of the riders shot off. I'd actually handicapped myself," said Stroud, a 44-year-old father-of-nine.
"Sloan (Frost) was riding really well, but I managed to catch up and hang on to him. In the next race I was quite comfortable behind Sloan and was in the best spot to see him crash. I think he hit a bump at the end of the main straight and it unloaded his suspension and spat him off. It looked really nasty from my view directly behind him.
"I'm just glad he was able to get up and walk himself to the ambulance.
"Dennis (Charlett) and Craig (Shirriffs) were giving me a hurry-up in the re-started race. They were both stronger than me on some parts of the track and it's definitely a relief to be leaving here today with the points lead."
Charlett, meanwhile, was thrilled with his first outing of the season on the 1000cc superbike.
"This is absolutely phenomenal for me," said the 44-year-old Canterbury hero.
"For me, racing the GSX-R1000 is a huge learning experience. To be right up there with Stroud and Shirriffs today was pretty amazing. I learned a lot and really enjoyed the experience."
Other class winners were: Auckland's Jaden Hassan (Formula Two); Taupo's Scott Moir (Formula Three); Wanganui's Richard Dibben (Super Motard); Auckland's Travis Moan (BEARS); Palmerston North's Glen Williams (Post Classics).
© Words and photo by Andy McGechan, www.BikesportNZ.com
Here is a VIDEO clip showing Sloan Frost's highside crash at Hampton Downs, courtesy on-board camera with Andrew Stroud.