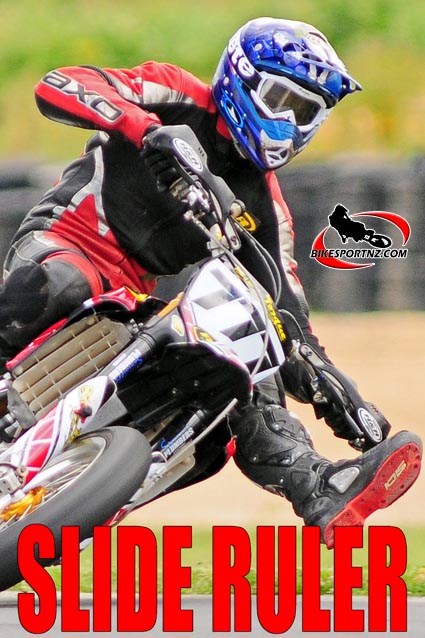 There is perhaps nothing more exciting than watching a high-powered dirt bike in a full-lock slide on a tarseal circuit.
Add a few undulations and put 25 riders out there together on the track and you have the recipe for high-octane excitement that simply can't be matched.
And top Kiwi in this special hybrid code of motorcycle road-racing is Auckland's Toby Summers, convincing winner of both Super Moto 450 races at Saturday's opening round of the Tri Series at Hampton Downs, near Huntly. Round two is at Manfeild this weekend and the third and final round is set for the public streets of Wanganui on Boxing Day.
The 38-year-old Manukau plumber took his 2011-model Yamaha YZ450F to back-to-back wins on the rolling Hampton Downs circuit, despite the fact he "wasn't pushing the bike too hard in the corners" and was riding conservatively.
"That was in the first race anyway. Then I gave myself a bit of a talking-to, pulled my finger out and went harder," he smiled.
He won his first race by a wafer-thin 0.057-second margin from Wanganui's Jayden Carrick (Suzuki RM-Z450) but stretched out to a more comfortable win in the next race, finishing 2.15s ahead of another Wanganui rider, Glenn Haden (Honda CRF450).
"It's hard to go fast, too, when you're in front because you're not getting a slipstream from other riders. I actually prefer to follow someone.
"It's a good start to the Tri Series, though. Fastest qualifier and then two wins from two starts … you can't do much better than that.
"I know the racing will be a lot closer at Manfeild this weekend and at round three on the streets of Wanganui. Those are much slower track, so it will be tighter."
There is little to separate the top three or four in this class with Summers on 51 points and Haden and Carrick in joint second spot, each with 42 points. Rotorua's Scott Birch (Aprilia) is fourth overall with 33 points.
© Words and photo by Andy McGechan, www.BikesportNZ.com