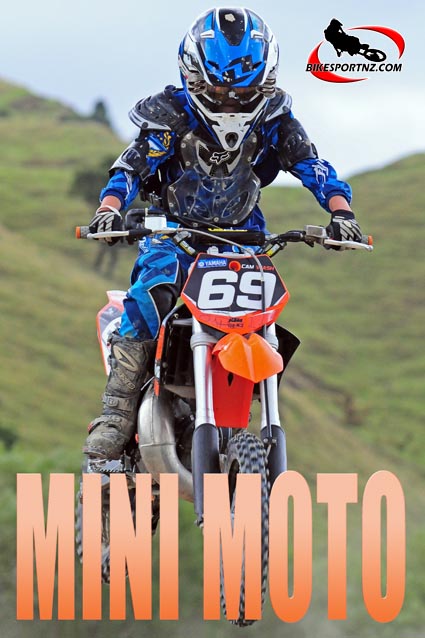 The future of New Zealand motocross goes on show on the west coast of the South Island this weekend.
The Westland Motorcycle Club hosts the 2011 New Zealand Mini Motocross Championships at a course on Waipuna Road, Ikamatua, and they are expecting a huge turnout of the country's elite riders, all aged between four and 11 and all riding bikes with engine capacities anywhere between 50cc and 112cc.
The KTM-sponsored annual event could throw the spotlight on the next Kiwi international superstar, a young rider who may go on to follow in the wheel tracks of world class New Zealand riders such as Taupo's Ben Townley, Motueka's Josh Coppins, Christchurch's Justin McDonald or Rotorua brothers Michael and John Phillips.
The racing should be particularly fierce in the 9-11 years' 65cc class between riders such as Tauranga's Chris Merriman, Bulls rider Riley Campbell and Kelson's Cameron Wash.
Merriman, Campbell and Wash (pictured above) finished first, second and third respectively in the 9-11 years' 65cc class in the mini motocross class at the big annual Labour Weekend Motocross Extravaganza in Taupo last month and they will be expected to rekindle their fierce rivalry this weekend.
Auckland's Ryan Webley and Kian de Lacy, from the Great Barrier Island, should also renew their battles in the 7-8 years' 65cc class, while Wanganui's Hunter Stoneman-Boyle and Hamilton's Joel Taylor should feature near the top of the standings in the 7-11 years' trail bike division.
Tauranga's Jacob Hunt is favoured to win the 6-8 years' 50cc trail bike class.
Top South Island riders expected to feature include Rangiora brothers Kayden and Cobie Bourke, Blenheim's Jack Dalton, Invercargill pair Josh Cooper and Jake Meikle, Rangiora's Korban Paget, Takaka's Hayze Shuttleworth and Dunedin's Regan Turner, to name just a few.
In addition to KTM New Zealand, the event is sponsored by Prime Explosives, Fox Brigade, SportsPro Racing, Solid Energy Coals of New Zealand and Development West Coast.
© Words and photos by Andy McGechan, www.BikesportNZ.com