POWER WINS 24-HOUR RACE … AGAIN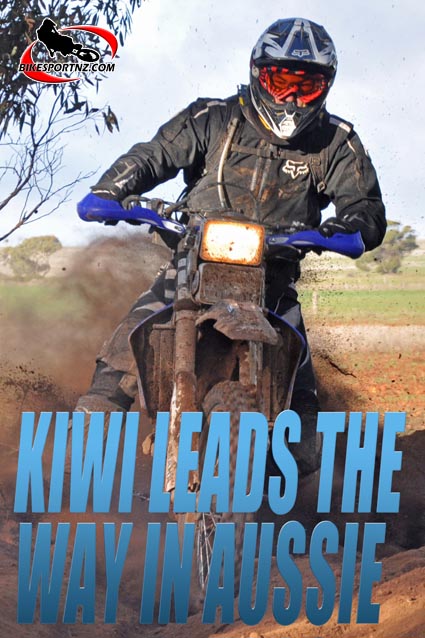 Auckland's Chris Power is a man the Australians are learning to respect.
For the second consecutive season, the 30-year-old has crossed the Tasman to tackle the iconic Swan Insurance 24-Hour Reliability Trial and for a second season he has proved that he, and his Yamaha WR450, are an unbeatable package.
It was a Yamaha 1-2 in the end too, with Australian Yamaha ace Sean Throup finishing runner-up, a narrow 40-seconds behind the Kiwi, with Throup's brother, Tristram Throup, taking the third spot on the podium.
The event, at Eudunda, just outside of Adelaide in South Australia, pits competitors against the clock in an enduro format using special tests and trail sections. The 24-hour time frame sees riders complete four six-hour loops back-to-back, with a race distance totalling more than 900 kilometres and comprising 48 special terrain tests.
"I bombed out of the recent Leatt Four-Hour Race in Taupo because of fatigue – pulling out after getting up to third overall and first ironman. I just wasn't fit enough," he confessed.
"But I knuckled down to work on my fitness and it obviously paid off with this 24-hour win.
"The element of riding at night time with big spot lights strapped to the bike is so thrilling. It has taken me three years to get up to speed during the night sections, which is where the meat of the winning happens."
It was an even more remarkable achievement for Power because he had been off a motorcycle since January because he underwent a shoulder re-construction operation and decided the 24-hour was going to be his proper return to competition.
Having won it in 2010, defending the title was high on the list of things he wanted to achieve upon his return.
"It's by far my most favourite event I have ever competed in, after the ISDE of course," he said as he now looks ahead to competing for the Wellard Yamaha Team at this year's ISDE in Finland.
This weekend he will race the sixth and final round of the Yamaha New Zealand Enduro Champs before heading to Finland.
"I want to win outright in Taupo, so we will see how that goes.
"I want to thank Peter Payne at Yamaha NZ for all the help with the WR450 is Australia, Yamaha South Australia and Rob the tech who makes my machine perfect every time.
"Oh, I'll definitely be going for three in a row you can count on that!"
Photos by Greg Power