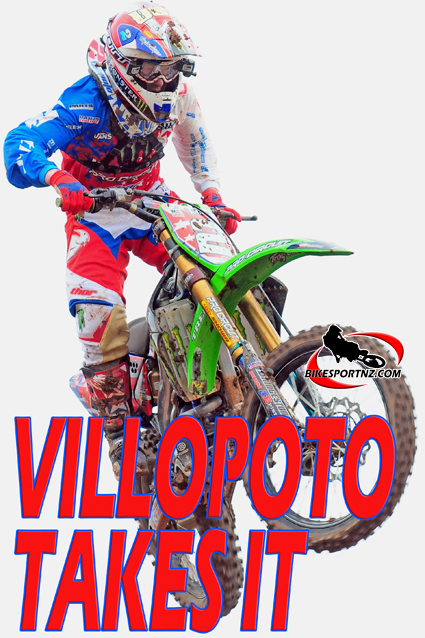 A near-sellout crowd of nearly 70,000 fans packed inside the Georgia Dome on Saturday night as the Monster Energy AMA Supercross began the eastern portion of its 2011 season.
A wild final lap helped Monster Energy Kawasaki's Ryan Villopoto grab his third win of the season and extend his points lead.
As the Supercross class riders came out of the gates for the 20-lap main event, Yamaha's James Stewart grabbed the holeshot with Australian Chad Reed (Honda) and Yamaha's Justin Brayton in tow.
On the second lap of the race, Stewart made a slight bobble, allowing Reed to get by and lead for the next 15 laps. On Lap 18, a lapped rider allowed Stewart to close in on his rival before reclaiming the lead as the pair came to take the white flag. As they entered the whoops, Reed dove to Stewart's inside and the two collided, falling to the ground. That allowed Villopoto to assume the lead and take the victory after holding down the third position for nearly the entire race.
"Sometimes it's not about being the fastest. You've got to be smart too," said Villopoto. "I figured (Stewart and Reed) would do that, but not with a lap-and-a-half left. We still have a lot of racing though. I'll just go back home and keep my program going and take it one race at a time."
Behind him, Stewart and Reed remounted in second and third, respectively. However, their battle wasn't done yet. As the duo came to the final turn before the finish, Stewart attempted to block Reed, forcing them to make contact again, which allowed Suzuki's defending champion Ryan Dungey to pass both and grab his third consecutive runner-up finish. Reed moved past Stewart to take third.
"James put a hard pass on me earlier in the race, so I just put one right back on him," said Reed. "I'm just happy to be up there racing for podiums and challenging for the lead."
Villopoto now holds a 10-point lead over Stewart heading into next weekend's race.
Supercross class results:
1. Ryan Villopoto, Poulsbo, Wash., Kawasaki
2. Ryan Dungey, Belle Plaine, Minn., Suzuki
3. Chad Reed, Tampa, Fla., Honda
4. James Stewart, Haines City, Fla., Yamaha
5. Trey Canard, Shawnee, Okla., Honda
6. Andrew Short, Smithville, Texas, KTM
7. Justin Brayton, Cornelius, N.C., Yamaha
8. Kevin Windham, Centreville, Miss., Honda
9. Ivan Tedesco, Murrieta, Calif., Kawasaki
10. Brett Metcalfe, Lake Elsinore, Calif., Suzuki
Supercross class season standings:
1. Ryan Villopoto, Poulsbo, Wash., Kawasaki – 171
2. James Stewart, Haines City, Fla., Yamaha – 161
3. Chad Reed, Tampa, Fla., Honda – 150
4. Trey Canard, Shawnee, Okla., Honda – 146
5. Ryan Dungey, Belle Plaine, Minn., Suzuki – 145
6. Andrew Short, Smithville, Texas, KTM – 110
7. Brett Metcalfe, Lake Elsinore, Calif., Suzuki – 104
8. Justin Brayton, Cornelius, N.C, Yamaha – 90
9. Davi Millsaps, Carlsbad, Calif., Yamaha – 88
10. Ivan Tedesco, Murrieta, Calif., Kawasaki – 78
Eastern regional supercross lites resuls at Atlanta:
1. Dean Wilson, Menifee, Calif., Kawasaki
2. Justin Barcia, Ochlocknee, Ga., Honda
3. Blake Baggett, Grand Terrace, Calif., Kawasaki
4. Blake Wharton, Aubrey, Texas, Honda
5. Ryan Sipes, Ekron, Ky., Yamaha
6. Hunter Hewitt, Pilot Point, Texas, Suzuki
7. P.J. Larsen, Murrieta, Calif., KTM
8. Malcolm Stewart, Haines City, Fla., Suzuki
9. Jason Anderson, Edgewood, N.M., Suzuki
10. Matt Lemoine, Collinsville, Texas, Kawasaki
Eastern Regional Supercross Lites Class Season Standings
1. Dean Wilson, Menifee, Calif., Kawasaki – 47
2. Justin Barcia, Ochlocknee, Ga., Honda – 47
3. Blake Baggett, Grand Terrace, Calif., Kawasaki – 40
4. Ryan Sipes, Ekron, Ky., Yamaha – 34
5. Blake Wharton, Aubrey, Texas, Honda – 33
6. Jason Anderson, Edgewood, N.M., Suzuki – 26
7. Lance Vincent, Youngsville, La., Honda – 23
8. Matt Lemoine, Collinsville, Texas, Kawasaki – 23
9. Malcolm Stewart, Haines City, Fla., Suzuki – 20
10. Alex Martin, Millville, Minn., Honda – 20
© Photo by Andy McGechan, www.BikesportNZ.com