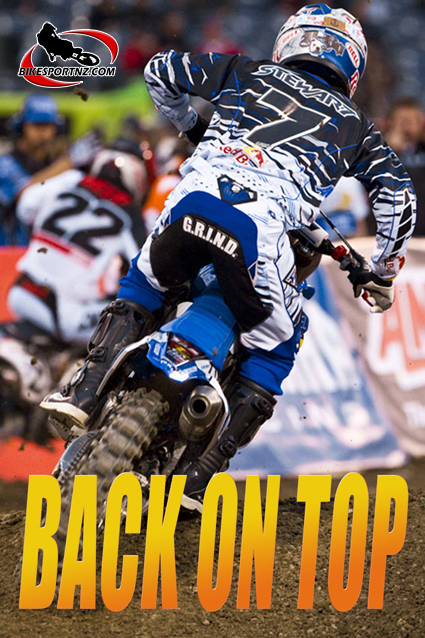 Yamaha's James Stewart won his second Monster Energy AMA Supercross Championship race of the season at Saturday night's round four event in Oakland, Califiornia, at the Alameda County Coliseum.
This was enough to see him leapfrog Kawasaki's Ryan Villopoto and take the series points lead.
Meanwhile, Kawasaki's Broc Tickle captured his first Western Regional Supercross Lites class race of the season.
Villopoto edged out Australian Chad Reed (Honda) for the holeshot in the Supercross class main event. Defending class champion Ryan Dungey (Suzuki) started third and was quickly passed by Stewart.
On lap two, Villopoto crashed in the muddy conditions, handing the lead to Stewart. Stewart led the next 18 laps en route to his second race win of the season. On the last corner of the race Reed passed Dungey for second place. Villopoto finished fourth after another crash left him out of the hunt for a podium late in the race.
"This is a great win for me and the team," said Stewart. "It's a long season and it's all about winning a championship. The rain tonight made it a little difficult, but I am glad I came out on top."
Despite the heavy rain that fell just before the start of the Western Regional Supercross Lites class main event, Honda's Eli Tomac won the holeshot with KTM's Ken Roczen and Kawasaki's Josh Hansen in tow.
Tomac spun out on lap three, giving the lead to Roczen. On laps four and five, Roczen and Hansen traded positions until near the end of lap five when Hansen secured the lead.
Tickle also passed Roczen on lap five and moved into the lead on lap eight. Roczen went down on lap nine, dropping several positions while Tomac moved into third. Hansen finished second and Tomac held on for third, marking the second podium of his career.
"I was so focused out there tonight," said Tickle. "I knew it was going to be really slick out there, so I tried to ride smooth and take it lap by lap."
Hansen leads Tickle in championship points 88 to 87.
Supercross Class results: Oakland
1. James Stewart, Haines City, Fla., Yamaha
2. Chad Reed, Tampa, Fla., Honda
3. Ryan Dungey, Belle Plaine, Minn., Suzuki
4. Ryan Villopoto, Poulsbo, Wash., Kawasaki
5. Brett Metcalfe, Lake Elsinore, Calif., Suzuki
6. Trey Canard, Shawnee, Okla., Honda
7. Kevin Windham, Centerville, Miss., Honda
8. Davi Millsaps, Carlsbad, Calif., Yamaha
9. Andrew Short, Smithville, Texas, KTM
10. Ivan Tedesco, Murrieta, Calif., Kawasaki
Supercross Class season standings:
1. James Stewart, Haines City, Fla., Yamaha – 92
2. Ryan Villopoto, Poulsbo, Wash., Kawasaki – 90
3. Ryan Dungey, Belle Plaine, Minn., Suzuki – 78
4. Trey Canard, Shawnee, Okla., Honda – 71
5. Chad Reed, Tampa, Fla., Honda – 70
6. Brett Metcalfe, Lake Elsinore, Calif., Suzuki – 55
7. Andrew Short, Smithville, Texas, KTM – 49
8. Kevin Windham, Centerville, Miss., Honda – 46
9. Justin Brayton, Cornelius, N.C, Yamaha – 39
10. Kyle Chisholm, Valrico, Fla., Yamaha – 39
Supercross Lites Class Western Regional results: Oakland
1. Broc Tickle, Holly, Mich., Kawasaki
2. Josh Hansen, Elbert, Colo., Kawasaki
3. Eli Tomac, Cortez, Colo., Honda
4. Ken Roczen, Mattstedt, Germany, KTM
5. Tyla Rattray, Wildomar, Calif., Kawasaki
6. Ryan Morais, Murrieta, Calif., Suzuki
7. Kyle Cunningham, Aledo, Texas, Yamaha
8. Jimmy DeCotis, Peabody, Mass., Honda
9. Bruce Rutherford, Murrieta, Calif., Kawasaki
10. Ryan Marmont, Woonona, Australia, KTM
Supercross Lites Class Western Regional season standings
1. Josh Hansen, Elbert, Colo., Kawasaki – 88
2. Broc Tickle, Holly, Mich., Kawasaki – 87
3. Ryan Morais, Murrieta, Calif., Suzuki – 70
4. Eli Tomac, Cortez, Colo., Honda – 69
5. Cole Seely, Corona, Calif., Honda – 60
6. Tyla Rattray, Wildomar, Calif., Kawasaki – 58
7. Ken Roczen, Mattstedt, Germany, KTM – 49
8. Martin Davalos, Cairo, Ga., Suzuki – 45
9. Kyle Cunningham, Aledo, Texas, Yamaha – 44
10. Jimmy DeCotis, Peabody, Mass., Honda – 40