SUMMERS THREATENS ITALIAN STAR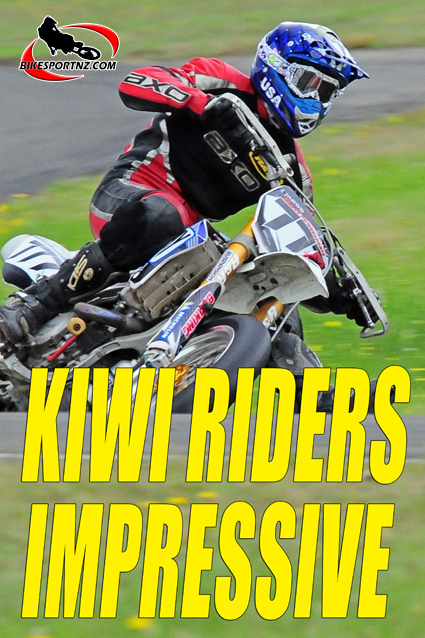 He may be an amateur racer and riding a two-year-old bike but Aucklander Toby Summers was once again on the pace with world class opposition at the weekend.
Summers took his 2008-model Bike Torque Yamaha YZ450F into battle against Italian super moto world No.2 David Gozzini at round one of the Suzuki International Tri Series a Hampton Downs just over a week ago, giving his illustrious rival a hurry-up on the fast and twisting tarseal circuit near Meremere, qualifying fastest and even winning the first of the day's two races for the hybrid dirt bike riders.
He came home third in the next race and ended the day overall runner-up to Gozzini (TM SMR450), just one point behind the international star.
The 37-year-old Summers was again one the pace on Saturday when round two of the series hit Manfeild, on the outskirts of Feilding.
From the second row of the grid, Summers powered through to finish second in the first of two races but he had to settle for fourth in the next outing. He remains second overall in the series, just 11 points behind Gozzini.
The performance of Summers over the past two weeks begs the question: Could he race the world champs and threaten the world's elite?
"Sure, I could go and do the world champs, but those tracks are a lot tighter and twistier than these ones I've been racing on here.
"Gozzini hasn't been on his full factory bike here, so the playing field has been a level one. When he races in Europe he's racing with $30,000 front forks, just for starters.
"I'm happy with my results so far but I would be a lot happier with a few more wins. I'm always a racer and the mentality there is 'if you're not winning you're not grinning'.
"Maybe at the final round, on Boxing Day on the streets of Wanganui, I could pinch another win."
Third overall in the under-450cc super moto class is Wanganui's Jayden Carrick (Suzuki RM-Z450) and he has also been a standout performer over the series.
Carrick has finished 3-2-4-2 in his four outings thus far.
Fourth overall is another Italian visitor, Andrea Occhini (Suzuki), while Tauranga's Duncan Hart (Husqvarna), Auckland's Steven Croad Honda), Taumarunui's Russell Josiah (Suzuki), Morrinsville's Nick Kampenhout (Husqvarna) and Wanganui's Simon Dibben (Honda) round out the top 10.
© Words and photo by Andy McGechan, www.BikesportNZ.com