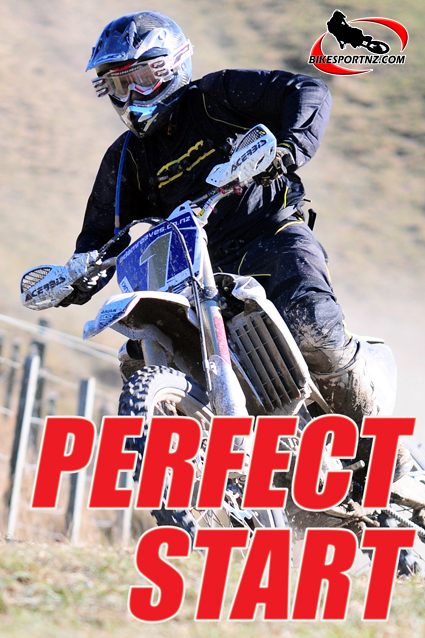 Pahiatua's Adam Reeves got his national cross-country title defence off to the best possible start in Central Hawke's Bay on Sunday afternoon.
The 27-year-old, who works as a printer at Massey University, didn't do it easily, however, with a little bad luck striking two of his main rivals during Sunday's opening round of the Suzuki-sponsored championship, staged on farmland about 30 kilometres east of Waipukurau.
Waitakere's Shaun Fogarty (KTM 450 EXC) led from the start of the gruelling three-hour endurance race and looked comfortable through the opening laps until a problem with the starting mechanism on his bike caused him major problems and he had to withdraw after three laps.
He needed a push to get his bike going as he left the pits to begin his third lap and, when he later stalled the bike at the bottom of a steep hill and couldn't re-start it, his race was effectively over.
Pukekohe's Luke Ramsey (Kawasaki KX250F) took over the lead and he also looked well in command until a spill on the seventh lap of 10 saw him tumble out of the race with an injured right knee.
The second round of four in the series is set for this coming Saturday near Nelson and, unfortunately, it seems unlikely that Ramsey – the under-200cc two-stroke class champion last season — will recover in time to be a contender down south.
While Fogarty and Ramsey will rue their bad luck, Reeves (Yamaha YZ450F) was all smiles at the end of the day, winning the race by three minutes from Auckland's Sam Greenslade (Suzuki RM-Z250), with Huntly's Michael Vining (Suzuki RM-Z450), Napier's John O'Dea (Suzuki RM-X450) and Tauranga's Scott Barr-Smith (KTM 200 EXC) rounding out the top five.
"I didn't have a great start but I was up to about eighth place after lap one," said Reeves afterwards.
"But I stuck to the task and, even though I didn't have a bigger after-market fuel tank like some of the other riders, I still managed to make up some of the time I lost while doing the extra fuel pit stops."
"It was very dusty and I had a few close calls, nearly running into other riders in the blinding dust. Suddenly big rocks or a bank would appear out of the dust and that made things very interesting.
"I hadn't been performing that well in the lead-up to this championship, so I think a few people might have written me off. I needed a good result like this to get my confidence back.
"Let's hope I can keep it all together in Nelson and at rounds three and four (in Wellington and Christchurch)."
© Words and photos by Andy McGechan, www.BikesportNZ.com
Full story and more photos in your next issue of KIWI RIDER magazine.