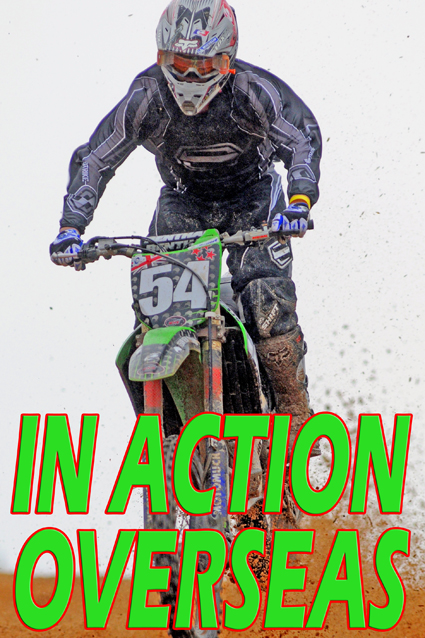 Gisborne's Matt Hunt has been experiencing a new style of international competition recently.
The multi-time former New Zealand junior motocross champion and current senior No.14 (after contesting only two of four rounds), is racing in Indonesia as an invited guest, representing the Moss Institute.
He is doing three rounds of the Powercross Championship, racing a Kawasaki KX250F for the BRP Team.
The first round was on Saturday night at Purbalingga.  The format was supposed to have been five races of seven laps each, with five minutes between each one, but, for some reason (possibly because of the weather) they changed it to one 15-lap race.
Hunt qualified in 3rd place with 39.4 seconds, behind Australian Lewis Woods, who was fastest with 38.8s and fellow Australian Kim Ashkenazi, who was second fastest with 38.9s.
Hunt then  grabbed a good start in the final and soon got into the lead.  He started pulling away and, after five laps, had pulled a five-second lead when his chain snapped.
He was "disappointed with the bad luck but very happy with my performance until then".
Meanwhile, Ashkenazi had taken the holeshot and dnf'd, but still got 4th.
Hunt finished 13th out of 20 from only doing five laps and said he had lapped people already by that stage in the atrocious conditions.
Aris Setyo finished 1st, Lewis Woods was 2nd, Aep Dadang was 3rd and Indonesian outdoor motocross champion Denny Orlando was 6th.
Hunt said he is looking forward to the next two rounds, this coming weekend at Cimahi, and the following weekend at Jakarta.
Hunt said he was very grateful to Greg and Rona Moss for putting him forward for the ride and also to the BRP Team and Ancha, the team manager.
He also wanted to thank Dumasari Bonaharto, who is sponsoring the ride.
© Words and photo by Andy McGechan, www.BikesportNZ.com