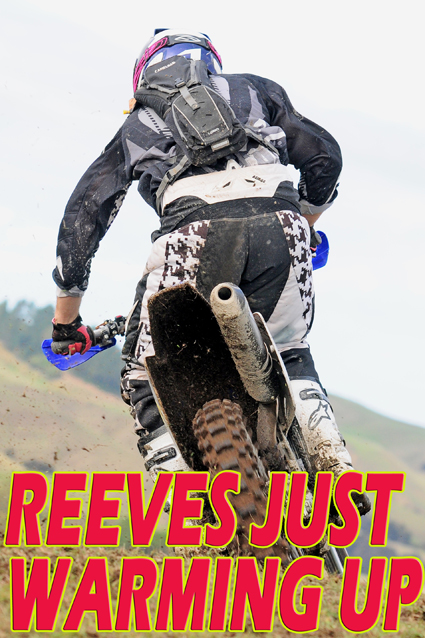 It was another race win under his belt at the weekend and signalled the start to this season's build-up for national cross-country No.1 Adam Reeves.
The Yamaha rider from Pahiatua won Sunday's Four-hour Bush Bash at nearby Alfredton and it was considered by Reeves an ideal warm-up for this season's New Zealand Cross-country Championships, which kick off in march.
Supported by Carterton's Sargent Yamaha Motorcycle shop and Demon Energy Drinks, the 27-year-old Reeves won his first national cross-country crown last season and he has every intention of keeping it in 2010.
"Events like this one at the weekend are important for me at this time of year. I need to spend time riding the bike (Yamaha YZF450) and pushing myself a little bit too," he said.
"A shotgun blast signalling the start of the race at about midday and, to my surprise, I managed to get a good start.
"A small group of us riders pulled away from the field at the start and the lead was swapping a lot as we kept missing turns and getting a little lost.
"The wind along the ridge lines was proving to be the biggest obstacle, so much so that the organisers had thoughts of cancelling the race because of safety concerns.
"This played havoc with the arrows marking the course explaining why we struggled a little on the first lap.
"Towards the end of the first lap I was in the lead but was having vision problems as my roll-offs had broken. So I pitted early for a new set of goggles and fuel and fell back to fourth place in the process.
"By the end of the second lap I had the lead back and set about building a decent gap over the rest of the field.
"The rest of the race went without any dramas and I had built up a good five-minute lead over second.
"At the three-hour mark, I was due to come in for fuel. I came through the scoring chicane to find the chequered flag was out and they had called the race one hour short due the wind being so bad.
"I was a little disappointed the race had been cut short but the safety of the riders was their main concern."
Reeves not only won the overall, he was also riding solo and claimed the 'ironman' title as well.
Words and photo by Andy McGechan, www.BikesportNZ.com