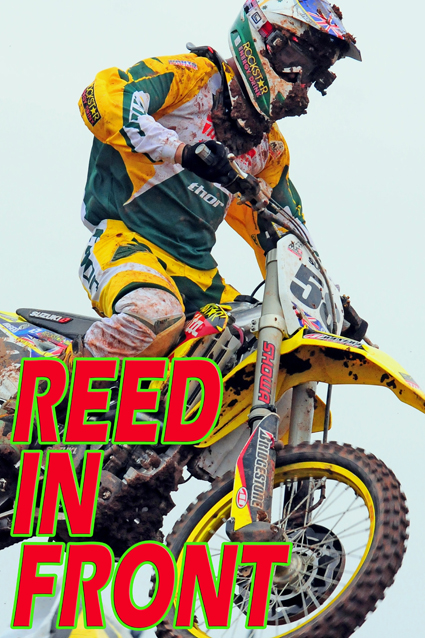 It's a battle of attrition in American motocross this season.
With one leading rider after another dropping to the sidelines, it's a battle between those still standing to see who can capitalise the most.
First Ryan Villopoto (Kawasaki) dropped out after winning the opening round of the series. Then he was followed to the medics' tent by Mike Alessi (Suzuki).
Last year's runaway championship winner, Florida's James Stewart, has opted not to defend his crown this season, his Yamaha bosses agreeing to him signing a supercross-only contract.
With Villopoto and Alessi gone and Stewart sticking to his guns and refusing to race motocross, the path was open for Australian Chad Reed to pounce at the weekend.
Though he recently became the American supercross championship runner-up, Suzuki's Reed had yet to fire in the outdoor arena this season … until now.
Reed raced to his first career 450cc class victory at round four of the AMA Motocross Championships at High Point Raceway on Saturday, that result also enough for him to take over the championship lead from Alessi.
Reed was the man to beat throughout the day, grabbing the holeshot in the first moto, and racing his way to the front of the field in moto two, overcoming Honda's Ivan Tedesco.
"It definitely took me (a long time)," said Reed. "To be truthful, I didn't think it'd be eight years for my first overall. But it wasn't for lack of trying. It feels good to get one and this is actually where I got my first (250) win. This weekend off is coming at a good time for me, I'm still not 100%. I'm just not feeling right and that's not the way to go (racing)."
Honda grabbed the final two spots on the podium with Andrew Short (2-2) and Tedesco (3-3) finishing second and third respectively.
New Zealand's Cody Cooper (Yamaha) enjoyed his best result of the season thus far, placing fifth and sixth in his two outings.
That was enough to thrust the man from Mount Maunganui up two places, from eighth overall in the championship standings, to a solid sixth, just 19 points behind fifth-ranked Tedesco.
Fellow Kiwis Justin McDonald and Luke Burkhart were less fortunate.
Christchurch's McDonald (Honda) qualified 38th and finished 20th and 21st in his two races, good enough for one championship point, while Wairarapa's Burkhart (Honda) qualified 35th fastest and finished 22nd in the first race but, his recent injury causing him problems, decided not to race the second moto.
McDonald is 30th in the championship standings.
Meanwhile, Kawasaki's Christophe Pourcel, of France, grabbed the overall victory in the 250 class and took over the points lead.
Pourcel captured the first overall sweep of his career with a pair of stellar runs. The Frenchman cruised to victory in the day's first moto but battled with Honda's Trey Canard, throughout moto two.
A mistake by Canard gave Pourcel the lead where he fended off the advances of points leader Ryan Dungey.
"I liked supercross a lot and I felt like today was like that. I just got into a rhythm," said Pourcel. "I went to my doctor and she told me I have a lot of problems (internally) and it's not going to get better since I was paralysed. It's not easy to ride like that but I just have to keep doing my best."
Suzuki's Dungey overcame a first moto in which he fell twice and still managed a third place finish to bring home the runner-up spot in the second moto as well as second overall. British KTM rider Tommy Searle finished third (4-3).
The WMX Class made its debut at High Point Raceway and Honda's Ashley Fiolek stayed perfect through four rounds of racing in 2009, sweeping the day's motos. Honda's Jessica Patterson, of Tallahassee, Florida, took second overall (4-2) while Suzuki's Sherri Cruse, of Bakersfield, Calif., was third (3-3).
"I knew I got to a good start, but I made a mistake so I had to just keep going and keep pushing," stated Fiolek. "In the end, (Jessica Patterson) ended up making a mistake. The track was really rough, but I like it and overall I felt really good."
After an off week, the Lucas Oil AMA Pro Motocross Championship continues with round five on Saturday, June 27 from Lakewood, Colo. for the Toyota Motocross National at Thunder Valley Motocross.
Results from round 4 of 12, 450cc class (Moto Finish):
1. Chad Reed, Australia, Suzuki (1-1)
2. Ivan Tedesco, Tallahassee, Fla., Honda (2-2)
3. Andrew Short, Smithville, Tex., Honda (3-3)
4. Michael Byrne, Australia, Suzuki (4-5)
5. Cody Cooper, New Zealand, Yamaha (5-6)
6. Ricky Dietrich, Menifee, Calif., Kawasaki (8-9)
7. Nick Wey, Dewitt, Mich., Yamaha (7-10)
8. Josh Grant, Riverside, Calif., Yamaha (6-11)
9. Justin Brayton, Murrieta, Calif., KTM (13-7)
10. Tommy Hahn, Decatur, Texas, Kawasaki (18-4) 450
Class Championship Standings:
1. Chad Reed, Australia, Suzuki, 161
2. Mike Alessi, Victorville, Calif., Suzuki, 142
3. Andrew Short, Smithville, Tex., Honda, 137
4. Josh Grant, Riverside, Calif., Yamaha, 119
5. Ivan Tedesco, Tallahassee, Fla., Honda, 110
6. Cody Cooper, New Zealand, Yamaha, 91
7. Thomas Hahn, Decatur, Texas, Kawasaki, 89
8. Michael Byrne, Australia, Suzuki, 84
9. Justin Brayton, Murrieta, Calif., KTM, 79
10. Dan Reardon, Australia, Honda, 68
250 Class (Moto Finish):
1. Christophe Pourcel, France, Kawasaki (1-1)
2. Ryan Dungey, Belle Plaine, Minn., Suzuki (3-2)
3. Tommy Searle, Great Britain, KTM (4-3)
4. Tyla Rattray, South Africa, Kawasaki (5-4)
5. Blake Wharton, Pilot Point, Texas, Honda (6-6)
6. Justin Barcia, Cairo, Ga., Honda (8-5)
7. Broc Tickle, Holly, Mich., Yamaha (9-8)
8. Matt Lemoine, Collinsville, Texas, Yamaha (7-11)
9. Kyle Cunningham, Fort Worth, Texas, Kawasaki (10-10)
10. Trey Canard, Shawnee, Okla., Honda (2-32)
250 Class Championship Standings:
1. Christophe Pourcel, France, Kawasaki, 177
2. Ryan Dungey, Belle Plaine, Minn., Suzuki, 175
3. Trey Canard, Shawnee, Okla., Honda, 139
4. Tyla Rattray, South Africa, Kawasaki, 135
5. Tommy Searle, England, KTM, 117
6. Blake Wharton, Pilot Point, Texas, Honda, 116
7. Brett Metcalfe, Australia, Honda, 111
8. Broc Tickle, Holly, Mich., Yamaha, 97
9. Justin Barcia, Cairo, Ga., Honda, 83
10. Jake Weimer, Rupert, Idaho, Kawasaki, 66
WMX Class (Moto Finish):
1. Ashley Fiolek, St. Augustine, Fla., Honda (1-1)
2. Jessica Patterson, Tallahassee, Fla., Honda (4-2)
3. Sherri Cruse, Bakersfield, Calif., Suzuki (3-3)
4. Vicki Golden, El Cajon, Calif., Honda (2-4)
5. Elizabeth Bash, Riverside, Calif., Kawasaki (5-5)
6. Sara Price, Canyon Lake, Calif., Kawasaki (6-6)
7. Kim Kocher, Paris, Ohio, KTM (8-8)
8. Sarah Whitmore, Cheboygan, Mich., KTM (11-7)
9. Tatum Sik, Temecula, Calif., Suzuki (9-10)
10. Jackie Ives, Exeter, Calif., Yamaha (12-9)
WMX Class Standings:
1. Ashley Fiolek, St. Augustine, Fla., Honda, 197
2. Jessica Patterson, Tallahassee, Fla., Honda, 163
3. Vicki Golden, El Cajon, Calif., Honda, 154
4. Sherri Cruse, Bakersfield, Calif., Suzuki, 154
5. Elizabeth Bash, Riverside, Calif., Kawasaki, 119
6. Sara Price, Canyon Lake, Calif., Kawasaki, 117
7. Sarah Whitmore, Cheboygan, Mich., KTM, 94
8. Penni Cyrus, Queen Creek, Ariz., Kawasaki, 85
9. Kim Kocher, Paris, Ohio, KTM, 81
10. Tatum Sik, Temecula, Calif., Suzuki, 77
Photo by Andy McGechan, www.BikesportNZ.com